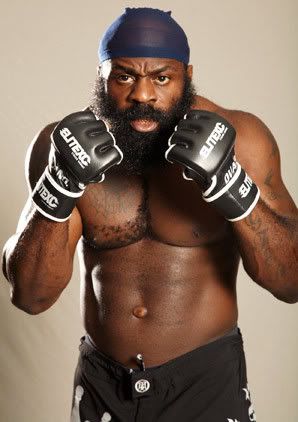 The contracts are signed and it's official. On October 4th, the bout between Kimbo Slice and Ken Shamrock will be the main event on Elite XC's "Saturday Night Fights" set to air live on CBS. But why was Ken Shamrock selected as the next opponent for Kimbo Slice? The answer is simple – money!
Shamrock and Kimbo are two of the most well known fighters to casual fans. That name recognition is sure to go a long way when it comes to attracting viewers. As a matter of fact, Kimbo Slice and Ken Shamrock have been involved in two of the three most watched fights in the history of the sport.
Ken Shamrock's third encounter with Tito Ortiz (which aired free on SpikeTV) drew an audience of 5.7 million viewers while the recent Kimbo vs. Thompson clash pulled in an audience of over 6.5 million. Shamrock vs. Slice, live on CBS – this fight is going to be huge. It makes money sense, that's for sure.
But Is It Going To Be Competitive?
Ken Shamrock is certainly the more experienced of the two but at age 44, he's clearly past his prime. His latest string of fights are evidence that he is no longer the fighter he once was. He's 2-8 in his past 10 fights. He hasn't won a fight in the last 4+ years and now he's landed himself in the main event on a event set to air live on national television? Something just doesn't seem right about that.
The motives here are clear. EliteXC needs the "Shamrock" name recognition to not only draw an audience but also, to build up their "cash cow" in Kimbo Slice. A win over Shamrock will further enhance the perceived legitimacy of Kimbo amongst the casual MMA fans. If you consider the controversy associated with last EliteXC event that featured Kimbo (read here), this new match-up seems a little suspicious to say the least.
Ken Shamrock has (on more than one occasion), been suspected of taking "dives" in some of his fights. In his fight with Franklin, he awkwardly drops to the mat before Franklins oncoming punch was even delivered. After that fight, Franklin went on to become a UFC "posterboy" for quite a while and Shamrock collected an unusually high payday.
He has also been criticized for his "performance" in his most recent fight with "Buzz" Berry. Shamrock, who is a veteran of almost 40 MMA fights, got dropped from a jab. A jab! Shamrock has never been known for having a "glass jaw" either so something about that doesn't seem right.
Although, to be fair, Shamrock claimed to be sick during the fight and recently issued the following statement ..
"It was serious enough to where I lost 20 pounds and I was probably sick for about four weeks after I got back from England. I was hospitalized for about four days. It was a bad sickness. We got the right antibiotics and got everything cleared. I got myself back on the track again and going in the right direction and got my weigh back on. We started pursuing a fight, the Kimbo Slice thing came up and we said, 'Wow, this is the perfect fight for me, man. You can't gift wrap one better than this.'"
If that's actually the case, it explains the lacklustre performance and if anything, he should be commended for stepping into the ring while he was that sick. As for his upcoming fight with Kimbo, UFC president Dana White had some interesting comments about the match-up..
"Another fucking joke from Gary Shaw. This fucker is so clueless that it's laughable. First he thought we protected our guys, which is bullshit. Then he gave us shit for matching up Brock against Frank Mir. Which would he rather us do? Obviously he's in favour of protecting guys since Kimbo doesn't seem to be fighting a good fighter anytime soon. Bo Cantrell? Who the fuck is Bo Cantrell? Tank Abbott? He was never that good, he just looked tough and always got his ass kicked. Now Ken Shamrock? When is Kimbo going to fight a guy who was relevant past 1998? Tito Ortiz, who sucks, destroyed Ken Shamrock three times. It's clear that Gary is going to milk his YouTube cash cow for all he's worth but true fans know that Kimbo is a joke and he would get destroyed against any UFC Heavyweight. Maybe that moron Ken Shamrock will expose Kimbo and he'll go back to fighting guys at the local Burger King. Gary Shaw and his 3rd rate promotion have no fucking credibility"
Not that I commend that fact that Dana is running his mouth and disrespecting some of the fighters that helped build the UFC into the MMA powerhouse that it is today, I think he's right when he implies that EliteXC is protecting Kimbo and as he put it – "milking his YouTube cash cow for all he's worth".
Perhaps a better match up for Kimbo would have been Brett "The Grim" Rogers seeing as how he's actually earned the shot by racking up a 7 fight win streak (he's currently undefeated). Rogers, who extended a public challenge to Kimbo at the post fight press conference, has voiced his disappointment with the situation by issuing the following statement to five ounces of pain..
"As for Oct 4th; that was our spot. Shamrock with his name and giant ego butted in line to get a slice of Kevin. At 103 years of age Ken usurped our rightful place against the YouTube champ. Our sincerest hope is that Ken whips Kimbo and then we can finally euthanize the "World's Most Dangerous Man" and relegate him to some MMA dinosaur exhibit. Maybe taxidermy him and Severn and place them on a rotating pedestal where they can endless circle each other.
If Ken proves to be more sham then rock and Fergi beats him, then the Slice hype grows even greater. Dude is already more of a myth then Sasquatch, Chupacabra and a fucking unicorn combined. Kevin is the black Yeti…So go ahead [Kimbo] and make us wait while you fight Tank and Shamrock. Hell, why not fight Hackney, Harold Howard, Fred Ettish and the rest of Jurassic MMA? And while your shuckin' and duckin' we will be hustlin' and muscilin' and when the bell finally tolls the only real question left is … do you wake up looking at canvas or arena lights?"
All in all, it comes down to money. Shamrock vs. Slice will draw a larger audience than a showdown between Kimbo & Rogers. Given the way EliteXC is protecting their "golden boy" investment, I'll be throwing my money in Kimbo to win.